The key to finding financial wellness does not lie with how much money you make. It is all about how you manage your money and use the income you have. To reiterate – more money does not make you more financially well, learning how to manage your money does. If you don't know how to manage $1,000, how would you effectively manage $10,000?
Money management skills start here:
Step one: Start with a realistic vision for your financial situation. Set immediate, short term goals (such as save $25 this month) that will fit within your budget. Then set longer-term goals (such as save $25 every month this year and don't touch it). Finally, set an end goal: Financial freedom. Not worrying or thinking about money every day. Taking a family vacation. Retiring. Create your vision – start small and grow.
Step two: Create your budget. This is sometimes the part where people struggle, and that's okay! A budget doesn't mean sacrificing, it means learning. Learning about your spending habits and where you can make small changes to accommodate your goals. Remember: Your immediate, short-term goals can fit with any budget.
Step three: Create a fun weekly ritual to regularly check on your finances and your budget and make changes where necessary. The idea here is to make this regular check-in more enjoyable and take the stress out of it. Set one hour aside to make your favorite beverage, a yummy snack, light a candle, play your favorite music, put your feet up, and check in on your budget and financial goals.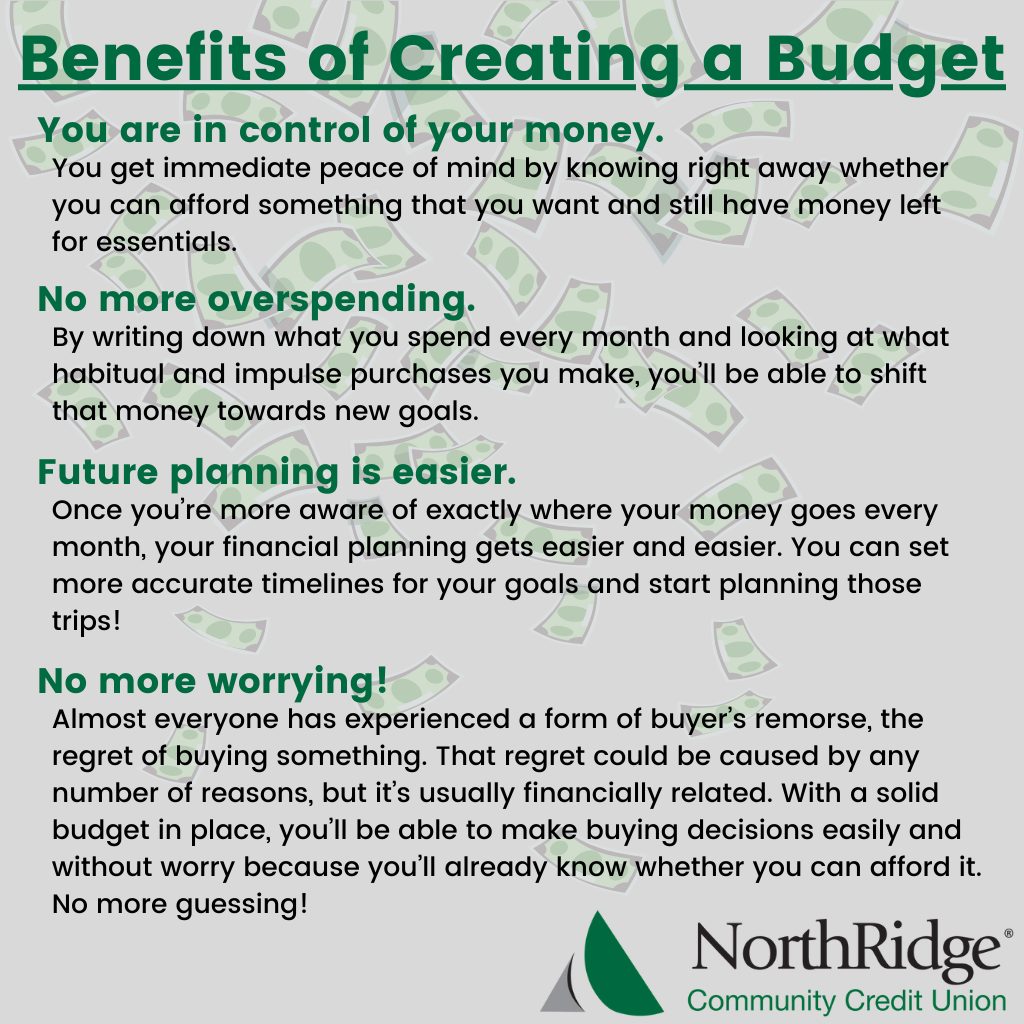 Measuring financial health has four indicators: Spending habits, saving habits, borrowing, and planning. Your spending habits should include spending less than you make and paying your bills on time. Your saving habits should cover short-term goals (emergencies) and long-term goals (vacations and retirement). Borrowing should be manageable, not borrowing more than you can afford to repay and taking steps to keep your credit score prime (read more about your credit score here!). Planning should include having adequate insurance (house, vehicle, medical) to support you in case of emergency.
For additional help with budgeting, set up an appointment with our educated team to complete a budget sheet! We also have debt consolidation options to help save money on higher interest debts.